I had a pot luck dinner/bridge party to go to last night. I usually make a dessert, but chicken thighs were on special at the supermarket last week, so I decided to make a "Greek style" creamy chicken pie from
this book
. The Australian Woman's Weekly puts out quite good cookbooks - not haute cuisine, but tasty and reliable recipes.
I used to make this pie quite often a few years ago, when you could get tough old retired laying chooks for a couple of dollars. The recipe calls for cooked chicken, so it really doesn't matter if you've boiled a tough old thing for a few hours or poached some juicy tender boneless thighs for a few minutes as I did here:
The cup or so of stock that was produced in the poaching process has been further reduced and frozen for a rainy day.
The other main flavours in the pie are onions (supposed to be shallots, but I rarely have any), bacon, and garlic …
… which you fry gently in butter.
This particular butter is some I made myself last Friday. My sister-in-law was making her own butter a while ago, when dairy prices were so high. She reckoned it was cheaper than buying it; I got 430 g (~1lb) of butter from 1 litre (~1 1/2 pints) of cream, which cost over $5. Butter is anywhere from $3 - $4.50 ish for 500 g so I don't see where the economy comes in, but it is very nice butter. Not that bought butter isn't nice, it mostly is - there are some shops I won't buy it from though, they don't look after it properly and it gets nasty flavours from being under lights.
Anyway, you fry the bacon etc for quite a while. It starts off with the butter and the juices emulsifying, you need to cook it for long enough that the fat separates out again …
… so you can use it to make a roux. You end up with a thick flavoursome sauce …
… to which you add the chopped up chicken …
… some grated cheese, and some eggs.
I get my eggs from my friend Sue's hens. Look at how yellow the yolks are - they make the whole pie filling a lovely golden colour:
The filling goes ito a dish lined with filo pastry:
You fold the hanging edges of pastry over the top, then place another couple of sheets of pastry on top. All brushed with melted butter of course.
I had too much filling, and a lot of filo pastry, so I made half a dozen little triangle things for my week's lunches. You can see the process in this collage: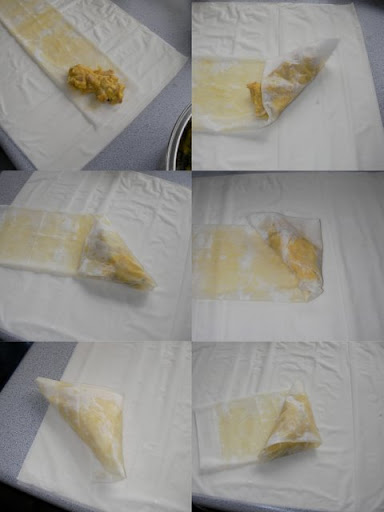 I was lazy and got Picasa to make the collage for me so it's not in quite the right order. The correct order is, from top left, across, down, across, down diagonally, across - ending at the bottom left. The single sheet of filo is buttered on the top 2/3, then folded in thirds longwise.
Here they are going into the oven:
And here they are coming out:
I cooked the big pie a little less - it was going to have to go in the oven at Alec's house to warm up, so I could finish browning it there.
I also made some loaves of bread to take:
I'm really getting the hang of bread.
I had one loaf myself. Here is some of it spread with my beautiful butter and cape-gooseberry jam.
Yum. Cape-gooseberry jam is my favourite jam of all time. My great uncle used to grow them and my aunt used to make jam from them. When he died (a long long time ago) I had to start growing them myself, which is not so easy this far south. Fresh bread from the hot bread shop with cape-gooseberry jam piled on top (my aunt had a sweet tooth, and was generous with the jam) and freshly squeezed orange juice for breakfast, in bed no less, is one of my best childhood memories of holidays at Auntie H's house.
Creamy Chicken Pie (Kotopita)
from
Easy Greek Style Cookery
Ingredients
60g butter
4 bacon rashers, sliced (I used bacon ends, they're cheaper)
6 green shallots (I used 2 onions)
2 cloves garlic, crushed (mine was elephant garlic and I chopped it)
2 tablespoons plain flour
1 1/2 cups milk
3 1/2 cups chopped cooked chicken
1/3 cup grated parmesan (I used tasty cheddar, and quite a lot more than 1/3 cup)
2 eggs, lightly beaten
10 sheets filo pastry
80g melted butter, for brushing the pastry.
Method
Lightly grease a 23cm round pie dish (I used an oblong one).
Heat butter in pan, fry bacon, garlic, and shallots, stirring, until bacon is crisp. Take off heat.
Add flour, stir until combined with the fat. Gradually stir in the milk and cook, stirring, until mixture has thickened and boiled.
Cool.
Stir in chicken, cheese, and eggs. (I taste it here to see if it needs salt)
Layer two sheets of pastry together, brushing each with butter. Fold layered sheets in half lengthwise, place in prepared dish with edges overhanging.
Repeat with another 6 sheets and more butter, overlapping strips clockwise around dish until covered. (I put one lot lengthwise in my oblong dish, and two lots crosswise)
Spoon chicken mixture into pie, fold overhanging edges back onto top of filling. Brush all over with more butter.
Layer reamining two pastry sheets with butter, fold in half crosswise with buttered sides together. Place pastry on top of pie, trim edge. (I don't need to trim, the pastry fits my dish perfectly)
Brush top with melted butter, bake in moderate oven (180˚C or 350˚F) about 35 minutes, or until browned and heated through. Cover with foil if pie begins to over-brown.
Note:
The exact amounts of pie filling ingredients don't much matter. I make it with whatever chicken, bacon etc. I have and adjust sauce amounts accordingly. The sauce wants to be quite thick before you add the chicken, cheese, and egg - it thins down a fair bit when you add the eggs, and then sets firm when it's cooked. In yesterdays pie I had a good deal more than 3 1/2 cups chopped chicken, so I made a bit more sauce than the recipe said, and added 3 eggs.